Why and How to start with Mindful Meditation?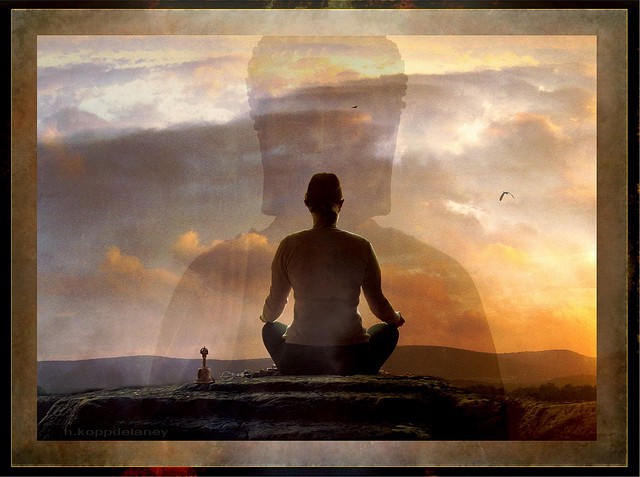 Meditation is an excellent way to workout our mind. But often we complicate meditation by imposing strict rules and preconditions. Mindful meditation brings about a healthy change and looks away from the traditional mindset.
What is Mindful Meditation?
It is based on the same principle as traditional meditation, but with a change.
It refers to synthesizing meditation with the natural state of our body and the world around us. The focus is to blend meditation with our daily life
For example, sitting in a relaxed posture, being quiet and observing our breathing pattern without any special effort is a form of mindful meditation. With your eyes wide open, peacefully enjoying everything happening around us during a train commute is another example.
Why Mindfulness helps?
By blending meditation to everything that we do in our routine life, helps us sustain the habit. It provides an opportunity to enjoy all that we do while relaxing our mind. If done well, meditation will become a part of our life rather than a monotonous activity that we do every morning.
Where to start?
As with everything else, there are tons of resources on the Internet. However, I suggest the following based on my personal preference.
Start by reading through this excellent post on Zen Habits by Leo Babauta — Meditation for Beginners. I personally suggest to follow this blog and you will learn lot more than meditation
Headspace is an interesting app to make meditation an interesting and fun-filled activity. Go through their free trial and see if it works for you
Buddhify is another meditation app for your mobile devices. You can choose plenty of scenarios based on your situation (like walking, commute etc.) and the app helps you meditate on the go
Mental Workout is an alternative to Headspace with videos and plans to get started with meditation. They cover a lot more ground in addition to meditation. I haven't tried it personally but looks promising
But remember:
All these apps help you get started and create yourself a personal commitment. But making it a habit and tailoring it for your mind is your personal responsibility. As with every other good thing, the best way to succeed is with practice.
Happy meditating!
Image credit: Flickr Creative Commons by Hartwig HKD
Originally published at meetashwin.me on January 7, 2015.